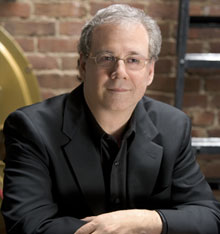 Louis Karchin (b. 8 September 1951, Philadelphia)
     Over a career spanning more than four decades, composer LOUIS KARCHIN has amassed a portfolio of more than 85 compositions, appeared as conductor with numerous performing ensembles, co-founded new music groups, including the Chamber Players of the League-ISCM, the Orchestra of the League of Composers, the Washington Square Ensemble, and the Harvard Group for New Music, and overseen the formation of a graduate program in Music Composition at New York University. His works have garnered distinguished honors, including three awards from the American Academy of Arts and Letters, a Guggenheim Fellowship, three National Endowment for the Arts Awards, and Koussevitzky, Barlow, and Fromm commissions. A citation from the American Academy praised his Songs of John Keats as "a striking conception, in which the sonic properties of the poetry interact with musical material in unprecedented fusion." Critic Andrew Porter, writing in the New Yorker, hailed Karchin as a composer of "fearless eloquence." The British music journal, Contemporary Music Review, singled out Karchin as one of twenty-five of the most exciting American composers born in the decade of the 1950's, and he was selected as one of 53 composers to represent New York at the turn of the millennium in the Chamber Music Society of Lincoln Center's "Great Day in New York" Festival at Alice Tully Hall.
      Karchin (born Philadelphia, 1951) studied at the Eastman School of Music and Harvard University; his principal teachers were Samuel Adler, Joseph Schwantner, Fred Lerdahl, Earl Kim, Gunther Schuller, and Leon Kirchner. Additional study included two summers as a Leonard Bernstein Fellow in Composition at the Tanglewood Music Center. He is now Professor of Music at New York University.
     Karchin's first opera, Romulus, received a fully-staged premiere in May of 2007, in a three-way collaboration among Works and Process at the Guggenheim, American Opera Projects, and the Washington Square Ensemble, and is now available on a much-heralded 2011 Naxos release. His second opera, based on Charlotte Bronte's Jane Eyre, was awarded two showcase berths, on Ft. Worth Opera's inaugural "Frontiers" Series in May of 2012, and later that year with the Center for Contemporary Opera in New York. CCO presented the work's world premiere in October, 2016 with soprano Jennifer Zetlan and tenor Ryan MacPherson in starring roles.  Performing organizations championing Mr. Karchin's music have included the Chamber Music Society of Lincoln Center, Tanglewood, the Louisville Orchestra, the Da Capo Chamber Players (NYC), the Plurimo Ensemble (Venice, Italy), Spectrum Sonori (Seoul, South Korea), the Delta Ensemble of Amsterdam, Holland, Voices of Change (Dallas, TX), the New York New Music Ensemble (NYC), and the Portland (ME) Symphony. Soloists have included Lucy Shelton, Fred Sherry, Rolf Schulte, Stephen Gosling, Thomas Meglioranza, and Marilyn Nonken, among many others. His music is published by C. F. Peters Corporation and the American Composers Alliance.  CDs of his works are available on Bridge, Naxos, New World, and Albany labels.  Mr. Karchin has been Composer-in-Residence at the Composers' Conference at Wellesley College, Indiana University, the University of Buffalo, the University of Iowa, and the University of Utah, and he has presented master classes at Harvard, Columbia, Boston, Brandeis, Cleveland State, and Rutgers Universities, as well as the Juilliard School, Westminster Choir College, the Manhattan School of Music, Mannes College, and Queens College, CUNY. In 2010, he was a guest composer at the Etchings Festival in Auvillar, France.
   As a conductor, Mr. Karchin is Music Director of the Orchestra of the League of Composers, and with them has conducted New York or world premieres of works by Elliott Carter, Joan Tower, Charles Wuorinen, David Rakowski, Arthur Kreiger, Missy Mazzoli, Julia Wolfe, and Milton Babbitt, among many others.  He is also a conductor of the Washington Square Ensemble and the Chamber Players of the League–ISCM.
     Mr. Karchin lives in Short Hills, NJ, with his wife, Julie Sirota Karchin, and their daughters, Marisa and Lindsay.