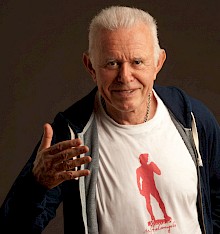 With the appearance in 1976 of Final Alice, David Del Tredici's hour-long setting of Lewis Carroll for high soprano and large orchestra, a new movement in music, Neo-Romanticism, was born. Not only did Del Tredici forge for himself a fresh compositional path, but at the same time gave hope to a generation of young composers seeking a new way of composing. "Del Tredici," said Aaron Copland, "is that rare find among composers – a creator with a truly original gift. I venture to say that his music is certain to make a lasting impression on the American musical scene. I know of no other composer of his generation who composes music of greater freshness and daring, or with more personality."

Final Alice is but one of a number of Alice in Wonderland  settings written over a span of more than 25 years (1968-1996). Final Alice was followed by In Memory of a Summer Day, which was awarded the 1980 Pulitzer Prize in music. Both Final Alice and In Memory of A Summer Day became best-selling classical music recordings. The largest of the Alice pieces, Dum Dee Tweedle, an opera for soloists, chorus and orchestra, was premiered by Leonard Slatkin and the Detroit Symphony in 2013.
Del Tredici's early works, in a more dissonant idiom, also focused obsessively on a single author – this time, James Joyce. The fruits of their union were many (1960-1966): Six Songs on Texts of James Joyce, I Hear an Army, Night Conjure-Verse and the tour de force for soprano and 16 instruments, Syzygy.
In Del Tredici's Post-Alice world, he has taken a startlingly different tack – to create a body of music that celebrates his own gay sexuality. Among these is: Gay Life (poetry of Ginsberg, Monette and Gunn) for Michael Tilson Thomas and the San Francisco Symphony, Love Addiction  (poetry of John Kelly), Wondrous the Merge, a melodrama for baritone and string quartet (poetry of James Broughton) and Bullycide for piano and string sextet, a composition dealing with gay-teen suicide as a result of bullying. OUT Magazine has twice named the composer one of its People of the Year.
Del Tredici has also been active in the intimate world of chamber music. His recent works include two string quartets, a clarinet quintet Magyar Madness for David Krakauer and the Orion String Quartet, Grand Trio for the Kalichstein-Laredo-Robinson Trio and David for bass trombone and violin written for Del Tredici's nephew Felix, a bass trombone virtuoso and violinist Mark Peskanov.
Since 2000 there has been a profusion of works for solo piano, reflecting Del Tredici's own musical beginnings as a piano prodigy. These include Mandango, Gotham Glory, Three Gymnopedies, and Many Hands.  Boosey & Hawkes has published two volumes of solo piano works with another forthcoming.
Ever extravagant, Del Tredici remains a forceful presence on the musical scene. While Composer-in-Residence with the New York Philharmonic in the 1990's, Leonard Bernstein recorded Tattoo, and Zubin Mehta recorded both Haddocks' Eyes and Steps.  In 2005 Robert Spano and the Atlanta Symphony premiered and recorded (Telarc) Paul Revere's Ride for soprano, chorus, and orchestra.  The recording was subsequently nominated for the 49th annual Grammy Awards as the Best New Classical Composition.  Also in 2005, Leonard Slatkin and the National Symphony Orchestra premiered Rip Van Winkle, an adaptation of the iconic Longfellow story for narrator and orchestra, with Broadway superstar Brian Stokes Mitchell.
David Del Tredici's works have been recorded on more than a dozen labels. These include a 2-disc set on Albany with Bullycide, Grand Trio, String Quartet No. 1, Felix Variations and Dynamic Duo, the first two volumes of the Complete Piano Works performed by Marc Peloquin (Naxos, Albany), Facts of Life, Del Tredici's monster guitar work for David Leisner (Azica), A Field Manual and Magyar Madness (E-1 and Naxos), an all-Del Tredici CD on Deutsche Grammophon performed by Oliver Knussen and the Netherlands' ASKO Ensemble and the first recording of the complete Child Alice with Courtenay Budd soprano, Gil Rose, and the Boston Modern Orchestra Project (BMOP).
Del Tredici has been on the faculties of Harvard and Boston Universities, and for more than 25 years, was Distinguished Professor of Music at The City College of New York.
Del Tredici is a long-time resident of Manhattan's West Village.